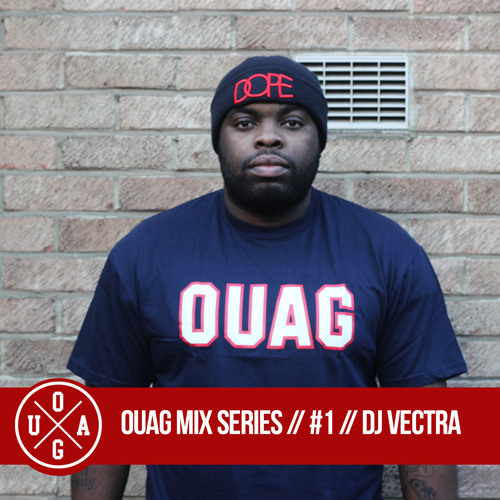 To start off the new year (about a month late), we've decided to introduce a new segment to the blog. Our mix series. Once a month from today we shall we putting out new mixes buy exciting DJ's and producers that we're feeling music wise. DJ Vectra kicks off our series with nothing but Grime. We talk to Vectra after the jump about his mix, which producers styles he's currently enjoying, Trap music influencing Grime and UKG. Hit the break to read it all and listen to the mix.
Q: You kicked off the year with a mix for SB.TV's DJ Mix series with pure Grime, unlike some other Grime producers/DJs who've done mixes for the series. For our mix, can you tell us the decisions behind your track selection?
V: With the mix for OUAG I've tried to keep it unique as possibly and tried to stay from tracks used in my SB mix. I used a couple in both, but those are the tracks I was feeling the most at the time.
Tracklisting at the bottom of the page.
Q:There's no names out of the blue within your track selection. So is there any artist or producer you can see popping up and making some noise this year?
V: Dullah Beats and Swifta two names for me personally. I like their styles. They're both very unique. Dullah for me brings me back to pioneering grime sound, the raw and rugged fast pace hype grime! While Swifta brings sub bass with a well produced sound. When his tunes drop it's an instant bass face reaction.
Q: With some many MCs about nowadays due to the likes of YouTube and Soundcloud, what makes an artist really stand out for you? What'd you look for when tunes are sent to your inbox?
V: They're (Dullah Beats and Swifta) unique and fresh sound makes them both stand out for me! As for MC's, it has to be character and flows. I like an MC that can write a good track but also perform in a rave reloads and crowd control.
Q: There's been a rise of Trap influenced beats within Grime. Some have embraced this sound, others aren't too keen on the American genre sneaking into our scene. What's your opinion on Trap music?
V: I like Trap but I think there is two kinda sounds. There is the Lex Luger kinda style and the Flosstradamus sound. I think Lex Luger's sound is grimey and I do like it, but that might due to the fact i like that style of rap music.
Q: If we put a UK spin on it, could Trap blow in Britain do you think? We've already got big producers such as Hucci and the duo of Stooki Sound touring the US with their sound.
V: Maybe but it seems when the sound goes to the US it doesn't seem to last long, But maybe and hopefully we havea breakthrough act who gives the UK longevity in the US.
(Photography by KOG)
Q: There's also been a revival of UKG too. Flavia D and Royal-T are really leading the way with this. Do you still keep a tab on Flava D from her Pitch Controllers days? What'd you think of the UKG influenced sound she's running with nowadays?
V: I like it. I really like Royal T's style, he's puts together a nice fusion of Grime and Garage. Flava D is good as well. Personally I prefer her Grime sounds, but the Garage vibe is doing good things for her, so that a good look.
Q: Also, what's happening with the whole Pitch Controllers movements? Back in 2010/11 you guys were putting on raves and releasing regular music. We've not heard from anything from the collective for a while now.
V: Everyone wanted to do themselves and focus on setting up there own individual labels, Dragon Punch and Teddy Music. Then the Pitch Controllers label went dead after our distributor disappeared of the face of the earth! Unpaid sales and no stats! So I didn't think it was fair on the artists to carry on releasing which that was happening. But I think its about time to do something again with Pitch Controllers.
Lil Nasty Feat. D Double E & Big Narstie - Boom Boom Pow Remix
K1 - Streetlights (wud's Refix)
Typah - Kill Confirmed Freestyle
P Money Feat. Little Dee - Madnam Style
Trends - Green Forest (Spooky Remix)
True Tiger & Big Narstie - Baracuda
Ruby Lee Ryder - Let Me Be The One
Wiley & Godsgift - And Again (Acapella)
KSH & Filthy Vicars - Bazooka
Meridian Dan Feat. Big H & JME - German Whip
Rival Feat. Double S & Mercston - I Remember
Teddy Music Feat. D Double E - Ice
Footsie - Move To The Beat