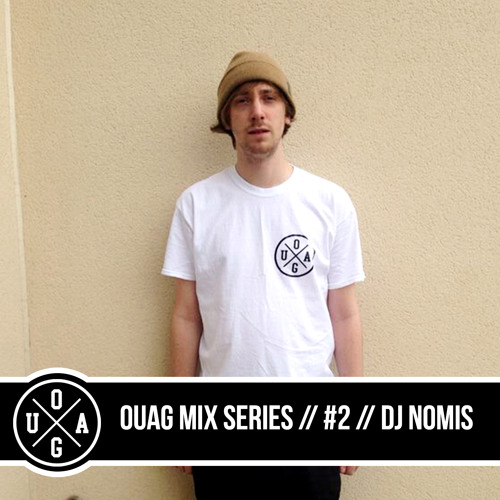 We kick off the blog's revival with an interview with DJ Nomis. If you're a long-term reader of the blog, you'll already know about Nomis and his work if you don't recognise the name. Amongst the mix of many blog posts you'd have spotted countless beats and mixes from the Charlton supporting producer/DJ. He formally went under the alias of Stinkalot.
Nomis was the second name to drop a mix for us over here at OUAG so I decided to have a quick catch up with him. We talked new releases, name changing and what the future holds for him.
OUAG: So Nomis, let's kick things off with your recent mix for the blog. What was the thought process behind the selection? What sort of vibe were you going for? It's a very different mix compared to our previous from DJ Vectra.
Nomis: I've always been more into the instrumental side of grime and I guess that reflects in the mix. The selection at the time was a bunch of dubs I had which I was feeling. Every DJ has their own style of mixing/tune selection.
OUAG: In the mix there was only one of your own tracks. When recording mixes for others, many producers fill their mixes with their own productions. What stopped you from over self promoting yourself?
Nomis: I've always said I'm a DJ first, producer second, and as a DJ I would rather play a mixture of different producers than just battering my own stuff. That and the fact a lot of the stuff I'm making at the moment isn't predominantly grime, more garage/2step and didn't feel it fitted within the mix.
OUAG: Is your OUAG mix similar to the sort of music you play out at bookings? Or do you more go with the flow of the crowd whilst doing this?
Nomis: Yes and no. My sets have always been a blend of garage and grime, new and old. I never plan sets ahead so I couldn't say it's similar because I never know what I'm gonna play next. I just go with the flow, chopping in and out. My radio show is probably a better judgement on what I play like when I'm in a club. Nasty FM Mondays 8-10pm
OUAG: How long have you been on Nasty FM for now? Previously you went under the alias of Stinkalot when DJ'ing before going into producing too with Nomis.
What was the decision behind the name change?
Nomis:
I've been on Nasty for a year, previously I was on Reprezent FM for a brief stint. The reason for the name change was because I wanted to concentrate on producing a lot more and in order to be taken a bit more serious. That's what brought around the name change.
OUAG: Going foward, releases. What have you got lined up? Your most recent one was the Maybe/When feature. Did it go as well as you expected?
Nomis: I'm not too sure how well it did to be honest. I got a lot of tweets and radio play so I'm sure it did okay. I also had a track drop as part of the Get Some Introducing series (Tudor) about a month ago. As for what's coming up, I can't mention too much as I've been told to keep quiet, but there are forthcoming bits from me this year!
OUAG: Wrapping things up, what does the future hold for Nomis and where can readers find you on social-networking sites?
Nomis: A lot more music to come and hopefully more bookings. Social networking wise catch me on:

Soundcloud - http://soundcloud.com/nomisproducer
Facebook - http://facebook.com/nomisproducer
and Twitter - http://twitter.com/nomisproducer.

Bookings wise for the next few months I'm at the following:

Seeerious @ Ramsgate Music Hall - 14.6.14
Regression Sessions @ Islington Metal Works - 20.6.14
Adrenaline All Dayer @ Southend (Secret Location) - 21.6.14
Seasons @ Lockside Lounge, Camden - 5.7.14
Ahadadream @ Plan B, Brixton - 12.7.14