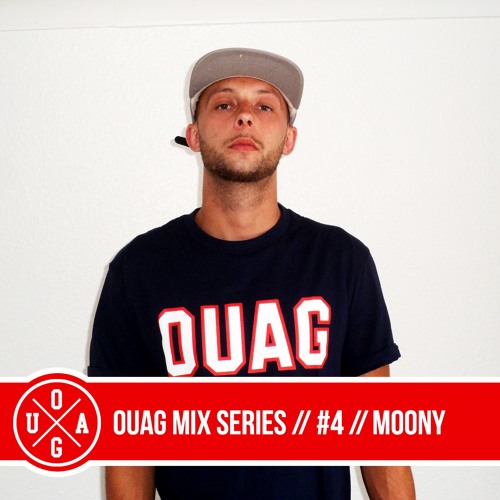 Moony's name and music has been on the rise for a while now. The South coast based producer is slowly moving back towards his garage music roots with his new sounds. During our interview we touched on this subject as well as the revival of house and instrumental Grime, how he puts together mixes, bookings and being from Brighton.
OUAG: First up, thanks for producing a mix for the blog. Unlike our previous mixes your contains a large amount of your own tracks. Was there any reason behind this?
M: Your welcome, thanks for asking me to. This is a good question. As a DJ and music lover I'd rather play other peoples music. I was DJ before a producer, so that's natural I guess. But as my career as a producer has progressed, it's only right i incorporate more of my music into my sets.
OUAG: When composing a mix, do you already have in your mind specific tracks that you're going to play? Or is a more of trial and error to see what goes well, then fine tweak it?
M: I generally give a mix like this more thought than a live set. I see them as more of a showcase for new music, either my own or tracks that I'm rating. They're more refined than my live sets, more focused on selection than mixing. It has to flow nicely because it's (hopefully) going to be listen to a lot of times.
OUAG: Does the same apply for when playing at bookings too?
M: No, I've learned not to over think club sets too much. You can't second guess the raver. If you go to a club/event/place with a preconception of what you think they'll want to hear, you'll be wrong most of the time. Now I just roll with a big batch of current and classic music that I like and go with the vibe and crowd reaction. Also technically the mixing is always more spontaneous and fun at a booking, just because its live you feed off the crowd and stuff.
OUAG: On the subject of bookings, have you played any festivals this year? Or have you get any lined up the readers can catch you at?
M: Yes, I'm very happy to be playing at Outlook again in September. It's my first and only festival booking so I'm looking forward to that. I played there last year and it was the first time I'd ever even been to a festival. It was a mad experience so I'm glad to be going back again.
OUAG: With the serge in popularity of house music over the past year, eighteen months or so, can you see garage following suit? Bearing in mind the two genres go hand-in-hand?
M: House music has always been and will be popular just because its such a big diverse genre. But I take what you mean as its become increasingly popular within the "Urban" (for want of a better word) demographic, in a way UK Funky was a few years back.
Anyway to answer the question I'd like to think garage is gradually building up to another mainstream revival, its certainly looking that way. But at the same time I think all music just goes round in circles. I'm sure it will have a time in the limelight and then fizzle out back to the the underground to resurface in ten years with the next generation of producer take on it.
OUAG: That's what I meant. In general dance music has gone that way. It seems Grime is too with the instrumental side of the scene dominating again. What's your opinion on this? Is it a good thing? Will it make the MC's step up their game again?
M: Yes I think its great to see and long over due. Events like Boxed and obviously Butterz, plus producers like Murlo, Darko etc are restoring my faith in Grime. There was a long stagnant period of rebore trap/rap beats getting passed off as Grime, and whilst I like to listen to it and its good for an MC or rapper, I couldn't play it and honestly say its Grime as I knew and loved it. So, yes I'm very happy to see some new and innovative productions floating about again.
As a DJ and producer I'd always like to see Grime as an instrumental/club based genre as opposed to backing music for MC's albums and mixtapes. The good MC's have clocked this and that's why they are now reaping the rewards getting booked all over the show. People like Novelist, Big Narstie etc, so hopefully more will follow they're lead.
OUAG: So will this revival of the instrument side of the scene, can we expect anything new from yourself soon?
M: New Grime? Yes always. Although I've sort of gone back to my garage roots, especially as a DJ. I've always continued to make Grime just because I like it. In the mix i done for you there's two or three unheard new bits. I have a tune called 'Ballin' which is coming out on Project All Out in September. Also I plan to put out a back catalog LP of all my popular Grime tunes that never got a release.
OUAG: Also being from Brighton, do you feel it's made breaking into the scene that little bit harder for yourself compared to other producers who are based in the capital?
M: As a producer, not at all. I mean the vast majority of networking and promotion in music has been done online for years now. And as far as events and meetings I'm only an hours drive away so its never really been and issue. From a DJ'ing point of view I think its actually worked in my favour, just because Brighton's a smaller city with a smaller scene. It's easier to stand out in a small crowd than a big one.
Don't forget to follow Moony on the following social-networking sites too: