This is a developing story and will regularly be updated with the latest war dubs.
Following a series of recent tweets by Jammer teasing the revival of his much-loved clashing platform Lord of the Mics, a
ny devout grime fan will have found it hard to miss all the war talk being thrown about online. For the eighth instalment of the prestigious event, the Boy Better Know veteran has been more open than ever in his recruitment process thanks to social media, consulting the likes of Funky Dee, Sharky Major, D Double E, Blakie, and Shizz McNaughty to help decide on the lineup.
On Sunday 13 January, after a week of online back-and-forths between MCs as well as speculation from the public, Jammer officially unveiled a first-phase announcement of clashes:
Greenwich's Ten Dixon is to face Birmingham MC Tana.
Essex's Tommy B and Bristol's Jay0117 will return to the ring for a rematch following their popular spar at Hell In A Cell 2 last April.
14-year-old Birmingham barrer T.Roadz has been pitched against Stevenage MC and fellow youngster SBK.
Both commended for their cutting-edge lyricism, Wellingborough's Rawza will clash Barking & Dagenham's Gen.
Harlesden radio regular Logan has been pitted against Acton's rising star GHSTLY XXVII for a showdown likely to be packed with patois.
This initial list is far from exhaustive, though. Jammer will soon reveal the full lineup, which has already been confirmed to include Yizzy, Nics and Mischief Artist among others. Meanwhile, a handful of war dubs have been exchanged while confirmed performers fire some blanks at one another and MCs on the periphery ignite some beef in a bid to win Jammer's approval and a spot on the platform. Catch up with all the dubs so far below.
1. Mischief Artist - "Brave"
Released: 6 January
Targets: Funky Dee
Context: For the last year or so, Mischief Artist has been sending for Funky Dee, releasing three dubs with the latest being the September 2018 drop "3 Nil". He's also been spitting these bars repeatedly on sets at Mode FM. Funky has refused to reply to any of these sends, claiming that Mischief is irrelevant and has bought fake followers. On fourth send in a row, "Brave", he claims the two of them should take it to Lord of the Mics.
2. Dramah & Kontagious - "Lightwork Freestyle"

Released: 7 January
Producer: Swifta Beater
Targets: Yizzy and Gemin1

Context: After Yizzy and Gemin1 claimed to be the "best back-to-back in grime", these two MCs have staked a claim for the title, waging war and suggesting they solve it by way of a two-on-two clash.

Lyrical highlight: "Just 'cause your mouth bare shaped like an arsehole / Yo, fam, remove those pubes on your lips!"
3. SBK - "Tyreece"

Released: 11 January
Producer: Nostalgiac
Targets: T.Roadz

Context: T.Roadz and SBK are the two youngest MCs set to appear on Lord of the Mics VIII, and 17-year-old SBK has come under fire from some fans due to being three years older than his opponent. On "Tyreece", he addresses these claims and fires some initial shots at his opponent.

Lyrical highlight: "Look inna my eyes, you aren't passing me / You're a child that's gassed off fast cars and sweets!"



4. T.Roadz - "Warning"

Released: 13 January
Producer: SBK
Targets: SBK

Context: Replying to SBK's above diss "Tyreece", T.Roadz has pulled out all the stops with his first war dub. Travelling to SBK's hometown of Stevenage to record the AshOnCam-produced video—which also features a cameo from Brum heavyweight SafOne—he borrows one of his opponent's instrumentals and proceeds to diss him over it.

Lyrical highlight: "I'm like a recipe going more in the sauce / You're like seventeen, blud, looking 44!"
5. SBK - "T.Roadz Freestyle"

Released: 14 January
Producer: Swifta Beater
Targets: T.Roadz

Context: SBK links up with Lordie to film a Grime Report freestyle aimed at T.Roadz – mostly reusing bars from "Tyreece" along with bars from elsewhere such as those used on his Hell In A Cell 2 war dub "Walking Down the Road".
6. F.O.S. - "War Dub"

Released: 15 January
Targets: Yizzy, PK, Ten Dixon, Ceejay, Cadell, Kamakaze, Tantskii and Coco

Context: Scunthorpe's F.O.S. may not be too well-known to Londoners, but he earned his stripes in grime from
2014–16
through a spree of WAW clashes
, taking on the likes of Izzie Gibbs and P Solja. On this war dub, he questions why Yizzy infamously stole bars from Phidizz, and also claims he got dismissed by Cadell after ringing up his "Hotline" a few years ago and demanding a war which he never got.
Lyrical highlight: "Kamakaze talks to the federal / That's the only time that he talks to the boys in blue / You're shit at grime and football too!"
Update (17 January):
Nottingham MCs Kyeza and Sparx have both been confirmed as participants in Lord of the Mics VIII. They've been hinting at a two-on-two clash...
Update (21 January):
During a Flex FM set with DJ Lioness, Aaze, Doni Rampage, and Slickman Party on 18 January, Yizzy sent for PK – claiming that the Camden MC and YGG member has been "running from a clash" and was happy to clash him at Grime Originals but not at Lord of the Mics. He also sends for Saint P.
Listen from 1:20:40 to hear him tell PK "you're not Mexican", "your voice sounds like your balls ain't dropped", and "you're only good when you're part of a crew / That's why your solo shit never bangs" over Jammz, Joker and NYTA's "Play That" instrumental:
Before Jammer releases the full lineup, here's our list of all the MCs who've announced they'll be appearing at Lord of the Mics VIII:
Ten Dixon vs. Tana
Tommy B vs. Jay0117
T.Roadz vs. SBK
Rawza vs. Gen
Logan vs. GHSTLY XXVII
Dramah & Kontagious
Kyeza & Sparx
Yizzy
Jafro
Nics
Mischief Artist
Update 2 (21 January):
Haringey MC Reece West has just revealed that he too will be clashing someone.
Update (25 January):
It's been a fairly uneventful week for Lord of the Mics news, although here are a few developments worth knowing about...
Back on 11 January, Crafty 893 sent for Ten Dixon on Oblig's Birthday Set on Rinse, branding him "Ten Kelly" after he said he was willing to clash 17-year-old SBK and claiming "your gyal is easy, not buff" (skip to 1:24:29 to hear Crafty's bars):
Mischief Artist has continued his long-running feud with Funky Dee by sending for him during Marcus Nasty's Hell In A Cell x Girls of Grime special show, which took place on Reprezent on Monday night. Skip to 1:40:20 to hear him spit a combination of old and new bars for Funky.

In other news, Woolwich MC Bzerk has entered the fray, revealing via Twitter and Instagram that he's "blessed to be a part of this year's LOTM". Meanwhile, Jay0117 has tweeted "Did somebody say Hype Session?!", implying that his first bars for Tommy B are imminent.
Update (10 February):
London's Grime Originals event on 26 January looked like it could get hostile, as Lord of the Mics opponents Jay0117 and Tommy B, Logan and GHSTLY XXVII all shared the stage during Oblig's New Gen set. Nothing too out of the ordinary occurred, though. Logan weaved GHS's name into some of his most well-known lyrics, warming up for warring season with some light sends for his opponent, but the most direct send of the night was probably this photo:
On 29 January, C. Dash of Invasion Alert revealed that he will taking part in a clash.
The last few weeks have been relatively uneventful, but today Jammer has invited all the participants to attend a photo shoot and interview.
Update (19 February):
Alongside their aforementioned photo shoot on 10 February, some of the warmongers took part in an official cypher with Treble Clef on decks, which naturally turned into a clash and saw the emergence of Tana and Ten Dixon's first bars for one another as well as some fiery exchanges between Micofcourse and Yizzy, who have now been revealed as opponents. Gen livestreamed parts of the cypher via Instagram, which emerging grime documenter 'WotsDaSceneSayin?' has screencapped and made available to view below:
Keen eyes will spot Kabz, F.O.S., Zen, and Squintz in the background, seemingly confirming that they too will be taking part in Lord of the Mics 8. After all, in an interview on Flex FM last month, Squintz told DJ Lioness: "The only person that it makes sense for me to clash is Aaze, or maybe another person, but man don't care about that... I'd rather get spun than clash a shit MC... I've said I'm down, I'm just waiting... I'm ready. I could do it now."
In the new cypher, Tana labels Dixon "a clapped-out Dave Chappelle", while Micofcourse gets the best audience reaction when he takes aim at his opponent's history of stealing Phidizz's lyrics:
"Nottingham man
Ain't that Yizzy? That Nottingham man?
Nah, that's Yizzy, he's a London yout
That bit bar-for-bar from the Nottingham man
Better say sorry to the Nottingham man
Heard you got banned from Nottingham, man
Next thing you know, he'll be singing out
'London crew 1-2' like the Nottingham man"
In retaliation, Yizzy remixes Micofcourse's well-known 'do what your dad should have done to your mum' lyric:
"You say that you're gonna pull out the ting
Fuck that, you ain't gonna pull out the ting
You're a fat fuck and your belly hangs over your dick
So how you gonna pull out the ting?"
Tommy B, Kabz, Reece West, and others also touch mic, but none of their lyrics are aimed at particular opponents. It may be a while before we see the official clash footage, so for now, enjoy the clip above!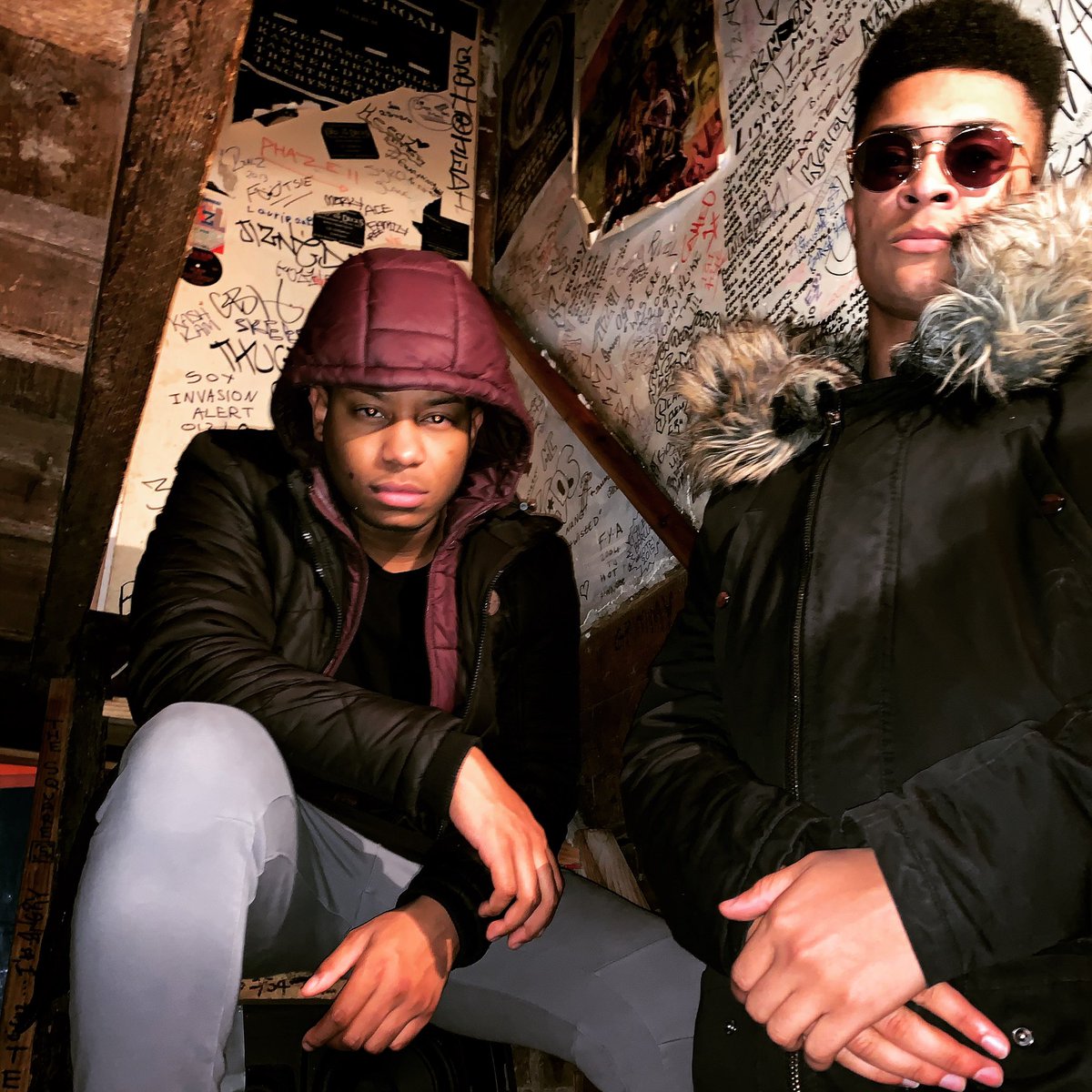 Meanwhile, on 18 February, Gen and Jafro took to Jammer's basement to record a new collaboration in the iconic studio. Once again, Gen was streaming via Instagram Live, and has leaked a clip of the song here.
Stay locked – this page will be updated as new dubs emerge. Follow @LukeBallance and @OnceUponAGrime on Twitter for all the latest updates.