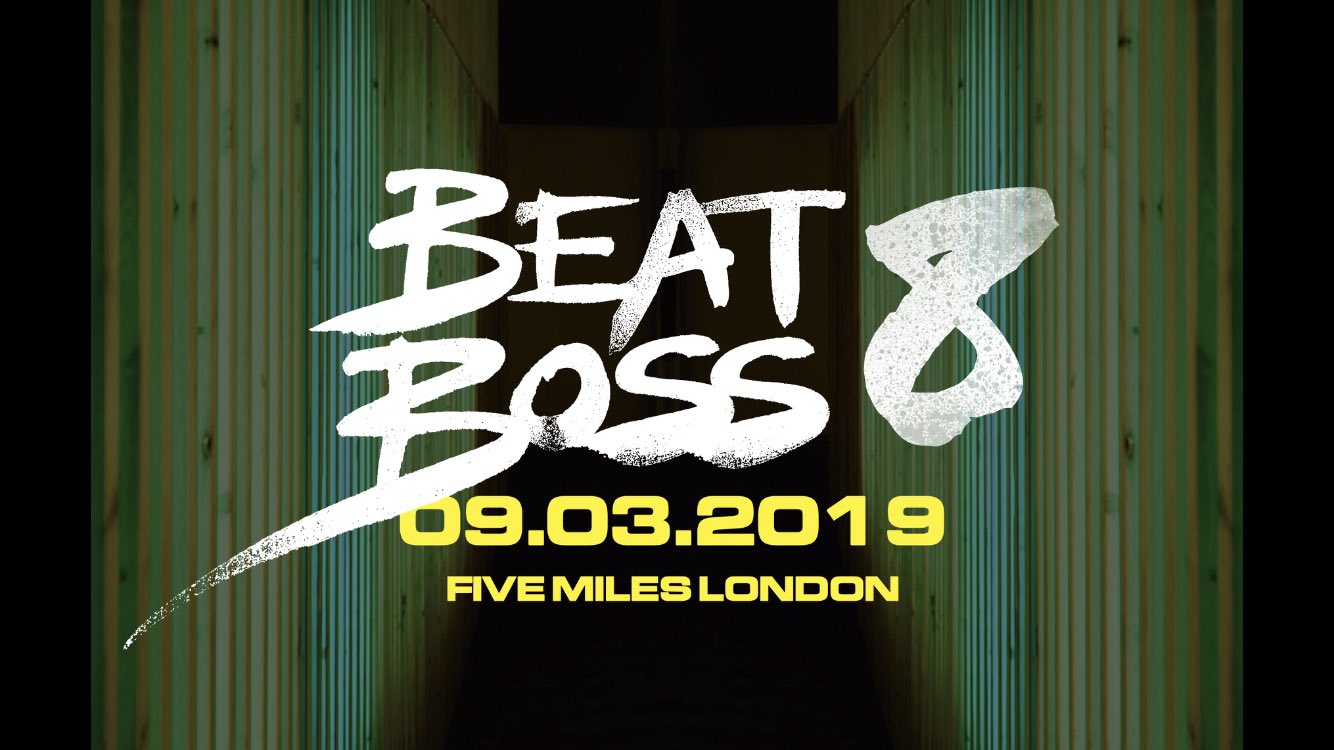 War is coming. This Saturday, 9 March, the streets of Tottenham will be shaking as a new batch of grime warlords enter the ultimate clash in beat making. Beat Boss 8 takes place at Five Miles from 10PM. A small number of £5 tickets are still on sale here at the time of writing, so grab one ASAP if you want to be there!
We've already seen early skirmishes in the qualifiers for the final slot – and after a few intimidating words from Hitman Tiga over the phone, Kronzy emerged victorious. Moments later, veteran contestant Spooky took to the mic, calling every producer out with his ban on "played out sounds". This is war talk; this is an indication of how the standard this year will be the highest ever.
For the eighth instalment of this legendary battle, the levels are very high. Even the judges announced are raising a few eyebrows in grime – with a panel made up of the tournament's only "double winner" Jammz; Roll Deep regular Manga Saint Hilare; and no less than Terror Danjah, one of the biggest names in instrumental grime's history.
After speaking to some of the contestants, Once Upon A Grime are here to help you choose your fighter ahead of this Saturday's event. Read on to get acquainted with each contestant.
With additional reporting from Luke Ballance.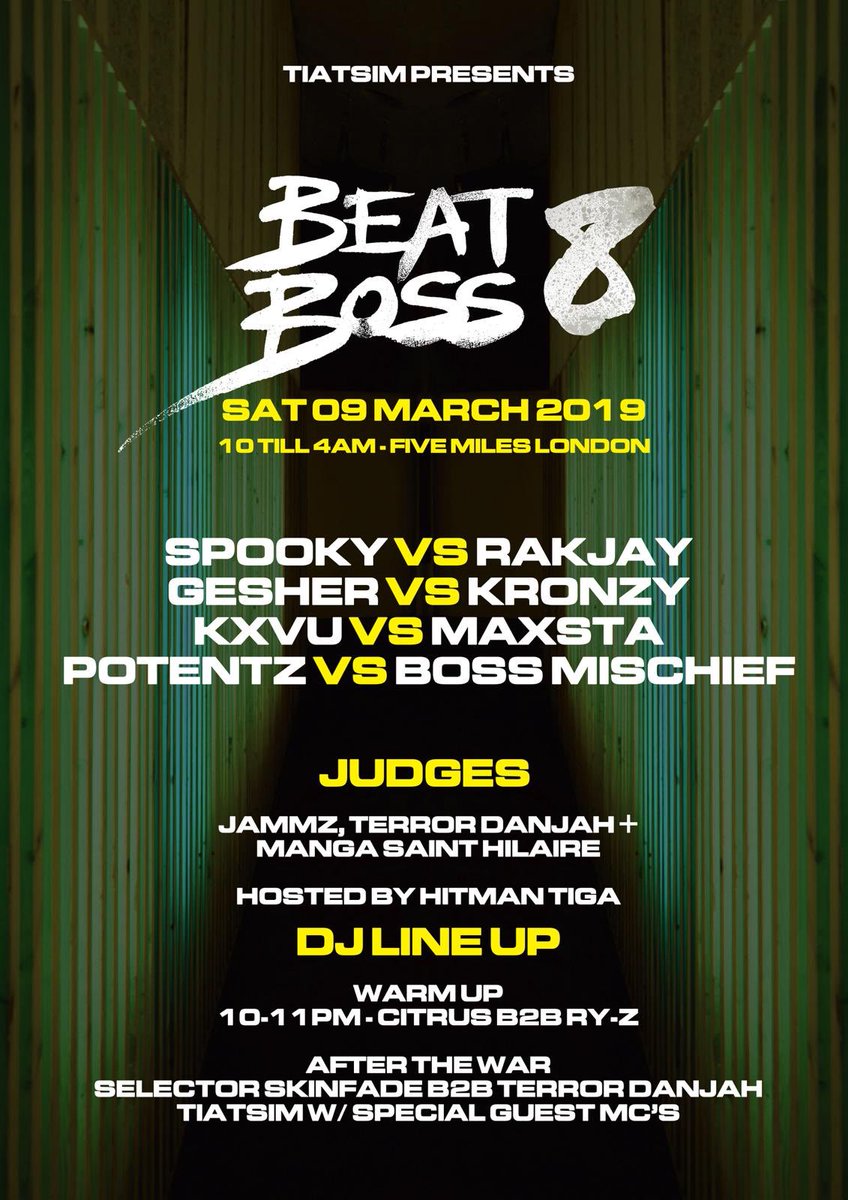 Spooky
Hackney's Spooky is a seasoned veteran of grime production, also
k
nown for dabbling in a diverse range of related genres including R&G and speed garage
. The former Slew Dem Crew member
has countless instrumental hits under his belt
—often available on vinyl
—
including the iconic
"Spartan"
, the garage-tinged
"Destiny Remix"
, and the bouncy
"Snow Forest"
. W
hen he's not in the Mode FM back room crafting beats on Fruity Loops, you can catch him on the station during Wednesday nights from 12-3AM. He's also a monthly resident on Rinse FM's prestigious Grime Show, where he's joined regularly by high-profile guest MCs.
VS
Well-versed as both an MC and a producer, Preston powerhouse Rakjay has recently ascended to grime scene prominence following stellar collaborations with fellow rising stars including Logan, Jakebob, and Khabs. With a proven track record of using innovative instrumentation such as brass fanfares and pitched percussion in his beats, he's sure to have a few tricks up his sleeves.
What sets you apart from the other contestants?
"I'm a northerner, and everyone knows it's grim up north. That's why the riddims are too gritty!"
Why do you think you'll win?
"'Cause after I get past Spooky, who the fuck's gonna stop me then?"
Despite being based in the small market town of Newark, Nottinghamshire, Gesher has made a far-reaching impact. While predominantly a bassline producer, he's earned critical acclaim for his skippy, often R&B-sampling grime productions, including the "Rock with You" flip "MJ Riddim", the "Rock Your Body" re-imagination "JT Riddim", and the colossal, Jammz-vocalled "Serious Issues". What can we expect at Beat Boss? If his contributions are anywhere near as dark and brooding as the latter track, he's a strong contender for the title...
Kronzy
Hailing from Southend-on-Sea and now based in Dorset, Kronzy has been quietly but consistently producing gems, laced by Ten Dixon, Lady Shocker, and Stainless Army among others over the years. He's no newcomer to the clashing format, either; back in 2014, he whipped up some colossal war dubs for JEB1 and Crossbreed for clashing platform World War Dubz. After storming his way past Doe Boy and Leberin at the Beat Boss 8 qualifiers on 1 February, he's sure to pack some equally exhilarating productions for the main event.
What sets you apart from the other contestants?
Why do you think you'll win?
"I'm the underdog: I've got nothing to lose; everything to gain."
Renowned for co-founding the forward-thinking Brighton label Southpoint as well as for his roles heading up content at 3000 Bass and hosting Juno Download's podcast, KXVU is a man of many talents. He's also found hosting the breakfast show on Sussex station Trickstar Radio during weekdays from 7-10am, and formerly served as the in-house DJ for Don't Flop clashes. He also thwarted Umpah and made it through to the finals of Knowledge Is Power's Dubplate Dons soundclash in 2017, and participated in showdowns against Kade at Ministry of Sound in 2015 and Freerange at The Arch in 2016 – a uniquely rich CV in clashing which stands him in good stead to win an entirely self-produced face-off.
What sets you apart from the other contestants?
"There aren't any formats of clashes for me left to try. I've done sound clashes, rap battles, DJ clashes – and been pretty successful."
Why do you think you'll win?
"Competition drives me, as I hate losing, so I'm quietly confident about my chances."

VS


Mitch7
Twitter / Facebook / Instagram / SoundCloud
East Londoner Maxsta rose to prominence at the turn of the last decade as one of a handful of young MCs to secure major-label record deals. For the last few years under the Mitch7 alias, he's been quietly refining his production skills, which were manifested in his self-produced LP MAXTAPE 2 last year. Drawing from classic eskibeat soundscapes as well as rough-and-ready, video-game-esque synths, he's likely to pack a punch at Beat Boss 8.
What sets you apart from the other contestants?
"No one else on the bill's ever seen Danny Weed or Target or Wiley make a beat in front of them. I've got that East London essence in me without even trying."
Why do you think you'll win?
"
For me, this is about acceptance; I feel like I'm being accepted by the grime production community.
I've never done this before;
I'm just coming to do my best and to play my nang beats.
It's a win for me to already be in a clash with some of the names mentioned when I've just started producing two years ago.
"
With two Beat Boss experiences to his name already—the second and fourth instalments of the tournament—Pyro Radio's Potentz should theoretically know the format and what works well better than any of his competitors. The Londoner's most recent releases include collaborative EPs with omnipresent grime producer Filthy Gears and dark garage legend Hindzy D – perhaps working with these two stars will have helped give him an edge on his adversaries this time around?
North London's "refix champion", Boss Mischief, has a rare ability to tear apart samples and tracks from a multitude of genres to make his beats. This could prove effective in the clash, where he will most likely use his ability to chop up his opponents' tracks and use it against them.
What sets you apart from the other contestants?
"I'm versatile. Plus, it's my third Beat Boss; I was on the first ever one, so I've got that war experience."
Why do you think you'll win?
"It's my second time facing Potentz. Last time, I sent him home first round, so it's war for anyone who wants it."
•
•
•
Remember, if you've not yet secured your place at the event, you can still buy a ticket here if you're quick. See you there!