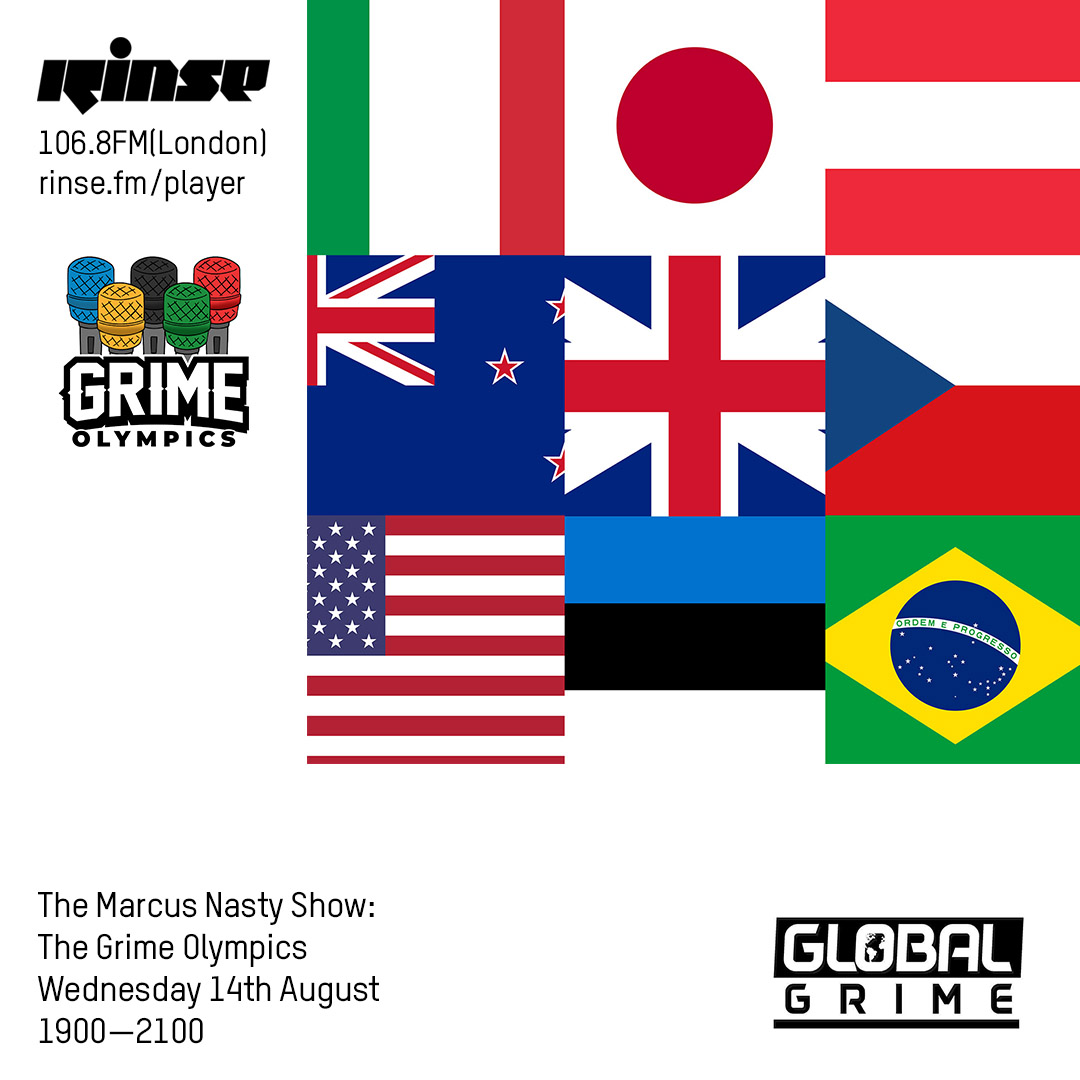 Rinse FM's very own Marcus Nasty and GlobalGrime have linked up to host the first ever "Grime Olympics" on Rinse FM, featuring over 35 artists from 9 different countries: UK, Japan, Austria, New Zealand, Czechia, United States, Estonia, Brazil, and Italy.
Each 'team' has a 13 to 17 minute set by themselves, concluding each 'round' is some commentary by the hosts who discuss the MC's performance, before moving onto the next team. Listen to the full set below!
If you like the show, you're in luck, because there might be another one in the Winter.
Japan - 5 MC's
Japanese grime has been around for a good 10 years now, starting in the city of Osaka pioneered by

MC Duff,

MC Dekishi, and the late

MC Tacquilacci,

who were collectively inspired by Roll Deep's Rules & Regulations mixtape.
Snow
Snow is a somewhat elusive MC, with not many public releases or appearances. He featured in a Tokyo Live Set back in 2016, and a UK x Japan link-up back in 2017 alongside Bright Sparks and Pakin. He's also known as Nowbass and is a member of the collectives 08G-z and GUM PROJECT.
Pakin and Snow also released "
I'm From A Place
" in December 2017.
MC Beyond
Beyond has been around for quite a while now, featuring on a grime set back in
2013
. Earlier this year, he released "
Better Than Me
". Common in Japanese grime, he has a distinctively
fast flow
. He is a member of Japanese collective 140 alongside Catarrh Nisin, F-lager, and Ritzzz.
Catarrh Nisin (カタルナイシン)
Catarrh Nisin is one of the more prominent MC's, at least from a British grime perspective. He featured in the
UK x Korea x Japan
link-up, and a Risky Roadz
freestyle
a couple of years ago. Like a lot of Japanese MC's, his flow is noticeably fast.
Itaq
Itaq is the interesting odd-one-out here, as most of his music would fall under hip-hop. Itaq has however collaborated with Japanese producer soakubeats before, who has dabbled in grime. The two made "
Super KAMIOKANDE
" together.
Pakin
Fukushima-born MC Pakin is one of the most well known of all of Japan's grime MC's, initially gaining prominence on the currently defunct GrimeReportTV YouTube channel. From there, he was invited to join the UK crew, Dark Elements. Pakin and Devilman performed a
freestyle
together back in 2013. Pakin employs a unique style of spitting, using deep inflections to give himself a stand-out voice.
MC Duff
MC Duff is a veteran of the Japanese grime scene, being among the first generation of MC's to prop up in Japan (specifically Osaka, where the style originated) alongside MC Dekishi and the late MC Tacquilacci around 2008, collectively inspired by Roll Deep's 'Rules & Regulations
'
mixtape.
Earlier this year, he dropped "
俺らの夜は終わらない
" and "
GRIME IS POWER
".
Austria - 3 MC's, 1 DJ
B.Ranks
New Zealand - 5 MC's
Spreading The Sickness
Czechia - 5 MC's, 1 DJ
Pain
Tubs
Ridig
Dony Dee
Joshua
United States - 3 MC's, 2 DJ's
American Grime
Werd2Jah
Estonia - 4 MC's, 1 DJ
Grinks
Ske
Seaduskuulekus
Brazil
Italy - 7 MC's
Ninjaz MC, Ganji Killah, and K!dust
Yodaman MC, Mouri, & Toni Mannaja
Blackson